Ceredigion Arts Trail Magazine 2018 with Coloured Earth Pigments
Posted by Sarah, Celtic Sustainables on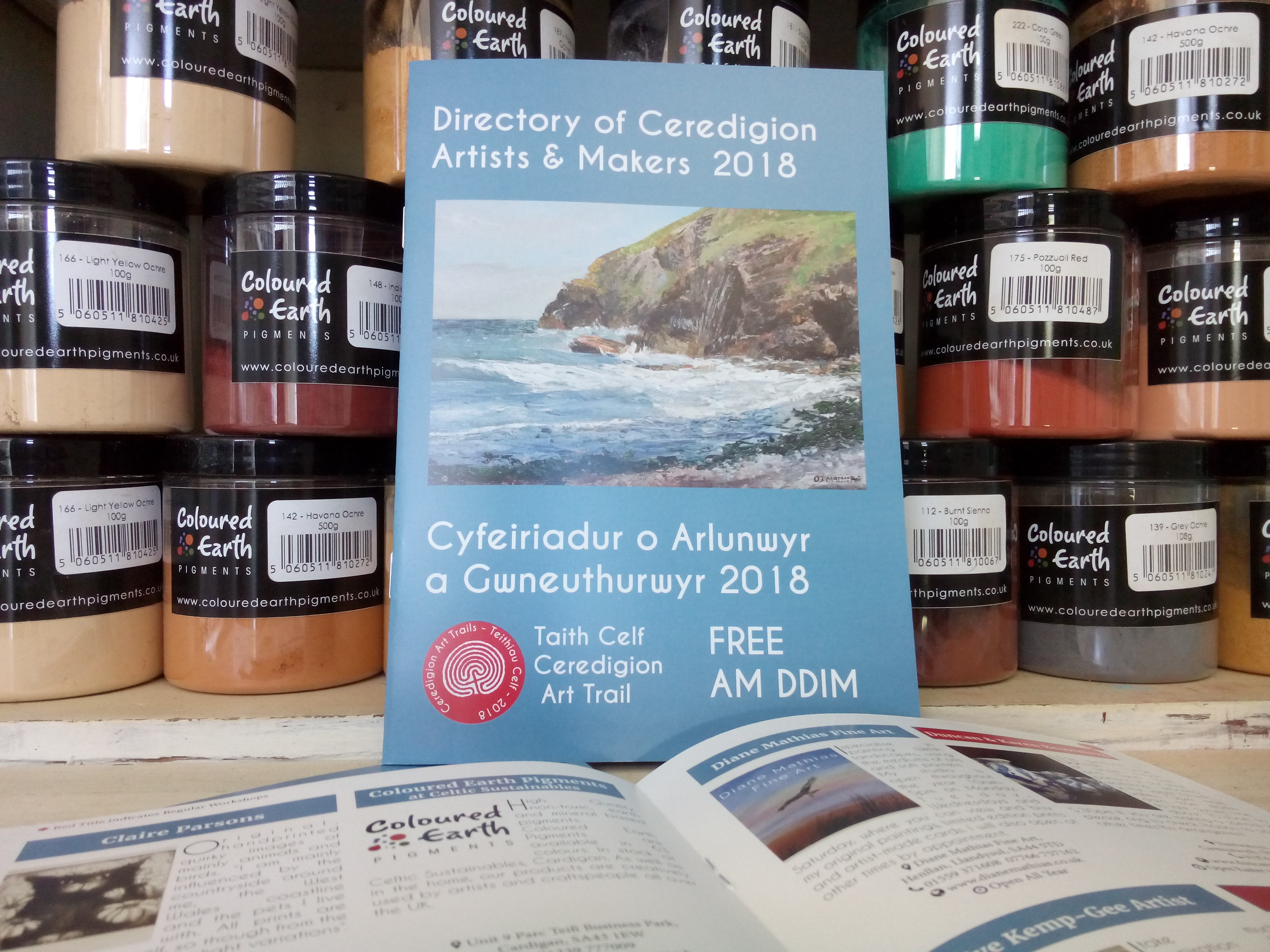 Our Coloured Earth Pigment looking great in the Ceredigion Artist Trail 2018 Magazine. You can pop in to our Cardigan showroom and pick up a FREE copy of the latest edition to find out what's happening in the area. You can also take a look at our range of beautiful non-toxic mineral pigments that are great for the new or estabilished artist.
Don't forget to make the most of the discount offer that is currently running for all readers of The Ceredigion Artist Trail Magazine. To use the offer just bring the CAT directory in to the showroom with you!
Coloured Earth Pigments can be used with the following;
Varnishes, waxes, stains and furniture and wall glazes

Natural paints like chalk and claypaint

Handmade paints and pastels

Making homemade PVA glue paints with children

In handmade paper

With Limewash and in plasters and cements

Colouring Grout for mosaic finishes
Coloured Earth Pigment comes in 63 non-toxic earth and mineral pigments available in 100g and 500g reusable pots. We have a range of Natural Pigments which are natrually occurring minerals containing metal oxides, principally iron oxides and manganese oxides. Primary types are ochres, siennas, umbers which are all 'earthy' colours. We also stock synthetic pigments, which are manufactured by combining different natural elements together which create brighter tones, they tend to be stronger than 'naturals' and less is needed to achieve a colour.
For more information of work, events and shows that are happening in Ceredigion, visit the Ceredigion Artist Trail website where you can build your very own artists trail.
Visit our showroom at unit 9 Parc Teifi, Cardigan, Ceredigion, SA43 1EW Open between 7:30-17:00 and open on Saturdays too between 9:00-12:00.