Posted on


You may already be basking in the wonders of a wool Baavet but did you know you can get even more benefits from wool by sleeping on top of it as well as under it.
Now my old granny would always give us a wool blanket under the bottom sheet in winter to keep us warmer. But if we had had a Baavet wool mattress topper it could have stayed on top of the mattress all year round to keep us warm in winter and cool in summer, or our wool mattress protector can protect your mattress whilst giving you all the benefits of wool creating a healthier sleeping environment.
Here is an account from a customer who has turned a Baa-rmy Baavet lover and can no longer go back to using anything else.
Last night I had the pleasure of sleeping on a Baavet wool mattress topper and I can say that I have been easily converted to wool.
The first thing you notice about Baavet is the quality, just to touch the outer fabric, you can feel how soft yet strong it is. Next is the glorious smell of wool! Having grown up on a sheep farm, it reminds me of my childhood; however there is a cute little lavender sachet included for those who aren't as keen on the smell of lanolin (which according to Baavet, does fade over time).
My bedroom is the coldest room in my house and I often wear socks to bed as I seem to spend ages making circles with my feet to try to warm up my toes, and on the coldest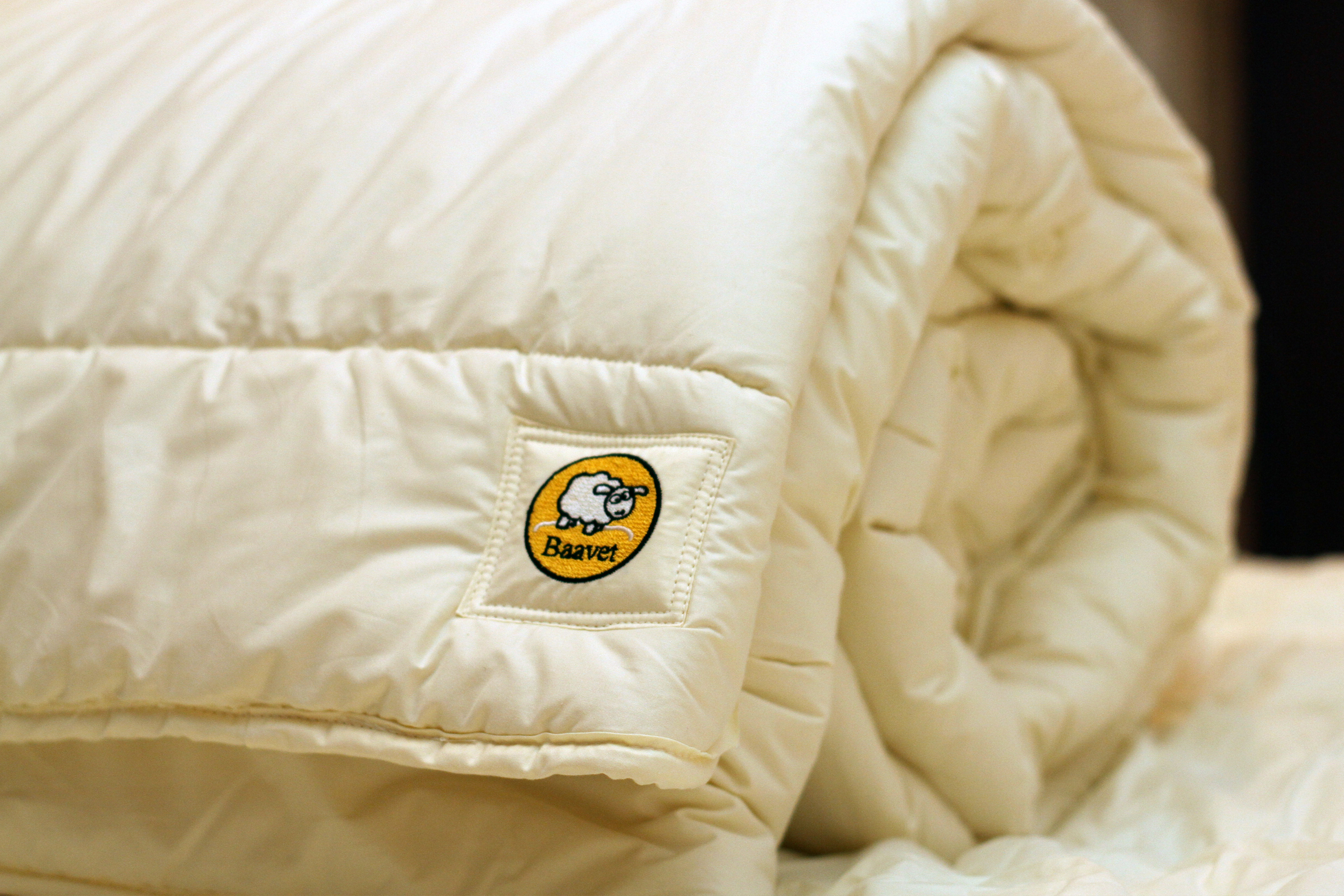 nights I make full on 'bed angels' to stop shaking. I've considered purchasing an electric blanket but I've always been worried about fire risks. I have now found the solution – my Baavet wool mattress topper does not conduct heat very easily so does not become cold when my bedroom does. Also, wool fibres do not support combustion and so I don't have the worry of sleeping on something that can easily catch fire.
It has taken me a few years to start really understanding the ethical side of the products that I buy - I used to be blinded by big expensive retailers marketing feather and down as being top quality, but not anymore. I now question the source of materials and manufacturing techniques. There are no sheep factory farms and no harm comes to the sheep that supply the wool, unfortunately the same can't be said for the plucking of live birds for feather and down products. Baavet contains 100% Welsh wool filling from sheep that need the haircut!
There are many other benefits to using Baavet to insure a good night's sleep, such as being dust mite resistant and hypoallergenic which are great for asthma and allergy sufferers. Baavet is breathable and temperature regulating which means that you won't wake up shivering in the winter or in a pool of sweat in the summer. This also goes for anyone who is sleeping next to you who you may consider to be 'hot' or 'cold' blooded – Baavet products suit all body temperatures.
Last but not least, the ease of use for such a high quality, ethical product is rare. The mattress topper is very easy to fit to the mattress with elasticated straps on each corner and can be machine washed on a wool cycle. The wool won't clump as it has been quilted so well, this makes a difference to other mattress toppers which I have had to shake about madly to try to even out the feathers.
I can only describe the feeling as being similar to being spread out on cold slabs one night and then rolling around on underfloor heating covered with a shag pile carpet the next! I look forward to another slumber date with my Baavet this evening…
To read more information about Baavet products we wrote an article here about why we are so Baa-rmy for Baavet. Baavet produce wool bedding in Wales using 100% British wool. Their products are breathable and hypo-allergenic. They are ideal for people who get warm in the night or people who are asthma sufferers.
Add a layer of woolly protection to your mattress with Baavet natural wool filled protectors.
A Baavet Mattress protector can make a cheap sprung mattress warmer and more comfortable and extend it's life. It comes with elastic straps to fit it securely to your mattress
Benefits of a Baavet wool mattress protector:
Dustmite Resistant

Hypoallergenic

Breathable

Temperature Regulating

100% Welsh Wool Filling

100% Quality Cotton Outer

Machine Washable on a Wool Cycle.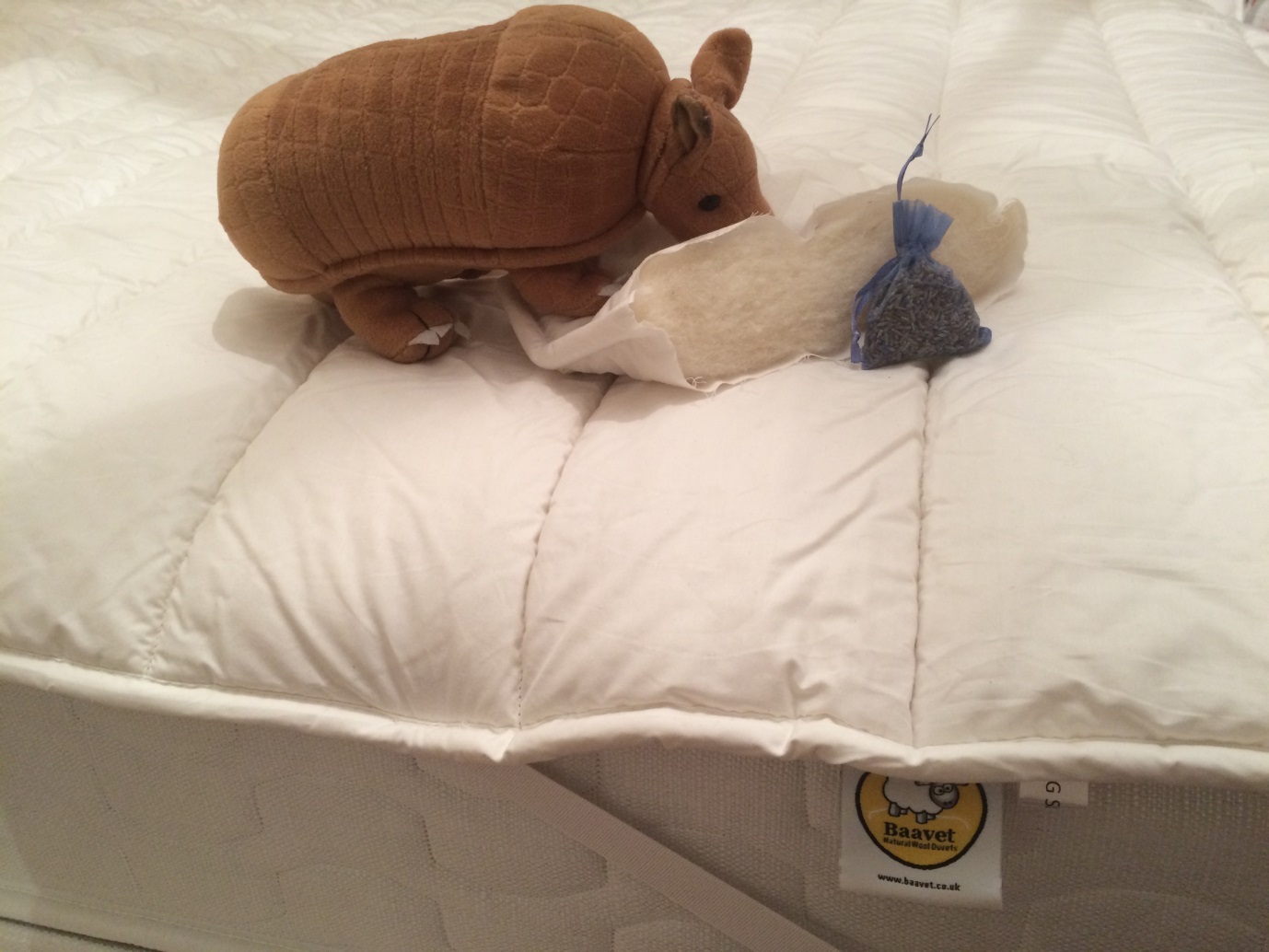 A beautifully crafted high quality duvet made in Britain using 100% British wool. Whilst lambs are springing up all around, the wintry weather still isn't quite behind us, and we're all trying to keep cosy until the sun decides to put his hat on once more for what forecasters are promising to be the longest summer [...]
Our friends at Baavet where featured on Dragon's Den. The program is available on the BBC iPlayer, they're the first ones on:Baavet on Dragon's Den (link to BBC iPlayer, available until 9th March 2014)Made in the UK from 100% pure organic Welsh wool, Baavet duvets regulate heat and wick away moisture, promoting peaceful sleep. They're naturally hypo-allergenic, dust mite [...]
Wood is a beautiful, sustainable and versatile material which is ideal for use both indoors and outdoors. It is the oldest and most reliable building material used by man and as a result deserves a bit of respect. Before the winter comes around again, it is now time to protect our untreated timber. Wood can [...]
Using the wrong paint for old buildings will not only cost you time and money but may also cause long term damage to the building. As damp is a common problem for traditional houses, breathable paints are a far better alternative to damp proofing paints.Modern damp proofing products create a barrier to water penetration, in [...]
At Celtic Sustainables we select the finest environmentally-friendly products that benefit you and your home. We know good quality when we find it and that is reflected in the products we keep in our shop and sell throughout the UK & Ireland from our base in Cardigan, Wales. We provide non-toxic alternatives to paints, wood [...]
Well as you already know, we started stocking eicó paints this week, but a few weeks ago Rishi and Ben from eicó came down to show us the ropes with the new tinting machine and paints. We've had a small introduction to the new range and all the brilliant colours that we get to mix! [...]
At Celtic Sustainables we were absolutely blown away when we saw these pictures of a wall mural in South China and then to find out the painting is with eicó paints! We could only wish that someone in West Wales would be interested in doing something similar to our warehouse.....? It is one of the biggest [...]
Many homeowners opt for plain white or other neutral colours for smaller spaces, this can work well but you always risk a 'clinical' look and sometimes a lack of personality in the home. In this article, we discuss colours and other tips to bring those smaller spaces in your home to life, adding warmth and [...]
1. Great quality— eicó paints are manufactured using 100% pure acrylic. It's the pure acrylic, which prevents blistering, cracking and and enables them to retain their colour so well - they can even be used for both interior and exterior walls. Unlike eicó, because of the high energy costs associated with the production of pure acrylic, [...]