Strawbale Home at Blaenffos Part 1
Posted by Celtic Sustainables on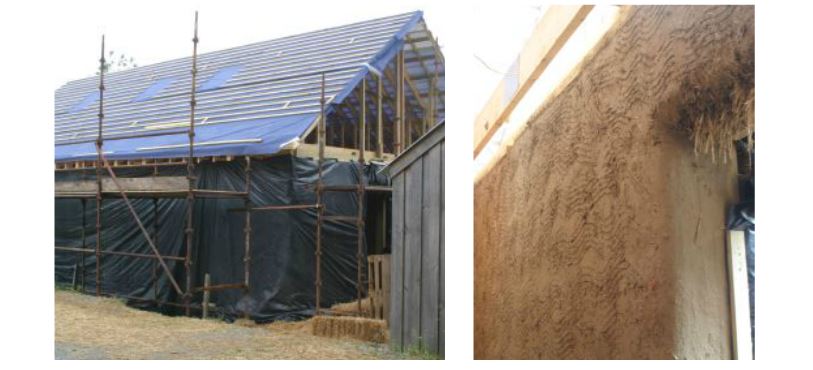 One of the many things we love to do is visiting the projects that our customers have been working on. This particular build a few miles away in Blaenffos (pronounced Bline-force for our non-Welsh speaking readers) is so interesting that three of us from the office managed to find suitable excuses to visit it earlier this month.
Debbie and Julian are building a load-bearing one and a half storey strawbale home inspired by traditional Welsh longhouses on their permaculture market garden site. Having strawbale load-bearing walls means that the walls are literally made from stacked strawbales held together by just the hazel rods (spiked through the bales) and the occasional piece of industrial plastic strapping tying the foundation plates and wall plates together.
The strawbale walls were built under a temporarily hovering roof by a team of people learning about strawbale building with Strawbuild.org then, after the walls had been built, the roof was gently lowered on to the straw walls – which, no matter how much the theory shows and the experienced Strawbuild team team tell you will be absolutely fine, must have been a relief when it all went to plan.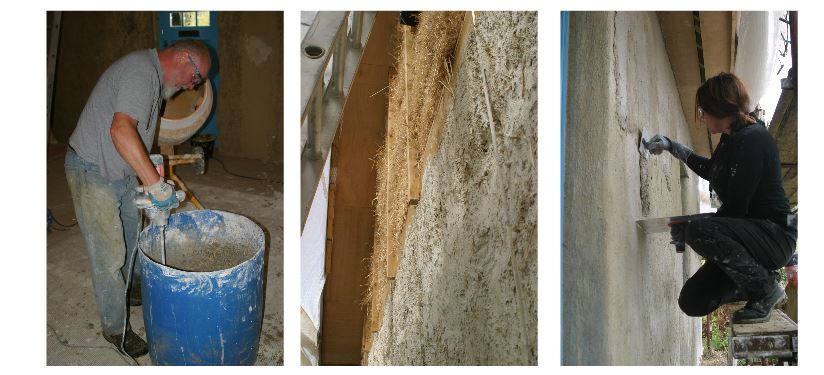 The walls and floor sit on a foundation of pea gravel stuffed tyres placed at regular intervals under the exterior walls and under the middle of the long house floor.
We caught up with Debbie and Julian after the course while they were continuing the work on finishing the interior walls with clay. We were interested to learn that most of the materials for the build had been sourced locally. Even the straw for the walls came from a farm just a few miles away and were some of the most densly pack bales that the Strawbuild team had ever worked with – great for thermal insulation!
The clay for the walls came from the market garden site and was working well mixed with the straw to make a natural clay render for the walls. The clay from their site has a fair amount of fine sand in it which is wonderful news for the team as a plaster for this type of build would typically need a mix of 80% sand to 20% clay before being applied to the wall by hand.
Later coats of plaster will include chopped straw mixed with the clay. The final wall finish they are unsure of at the moment, some walls may be finished differently to others, possibly clay, possibly lime, possibly a clay lime mix …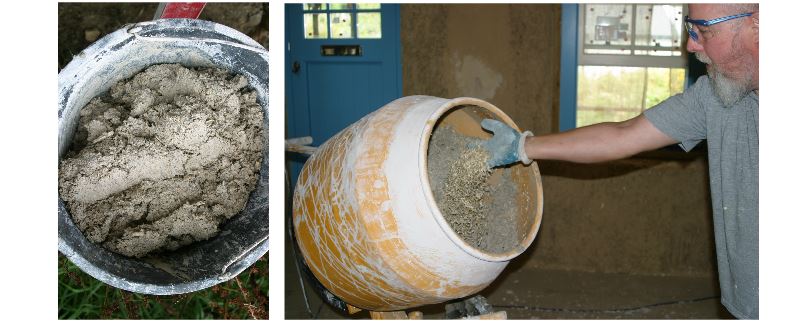 One thing that will be true of the final finishes for the internal and external walls is that it will be breathable. Straw is a breathable material – it allows moisture and air through it – therefore what ever is put on top of the straw needs to be breathable too. If it is sealed by a non-breathable material it will eventually start to rot.
There are a couple of great finishes that Debbie and Julian could use that will look fabulous and keep their walls breathable. Lime putty mixed with water to make a limewash adding pigments for colour – this has the added benefit of closing up fine cracks in the plaster that may appear over time, they have a self-healing effect as the lime carbonates. Alternatively Earthborn claypaint would also keep the interior walls breathable, they have the advantage of coming in ready mixed colours or adding pigments to the white claypaint and because the paint is so thick it hides fine cracks.
When it comes to insulating the roof and floor Debbie and Julian have already chosen Thermafleece Cosywool for it's breathable as well as it's insulative and natural properties.
We'll catch up with Debbie and Julian again soon when they are putting the final finishes on their walls to see exactly what breathable surface they go for. If you can't wait until then to find out how they are getting on be sure to follow them on facebook at FreshVeg Blaenffos.