Eco-Solutions Home Strip Cleaners
Posted on
Cleaning your home, brushes and hands during a DIY project can often be a bit of a toxic job. Eco-Solutions Homestrip offer a healthier way of doing things. Eco-Solutions is a leader in water-based paint strippers, hand cleaners, coatings removers, and other associated products.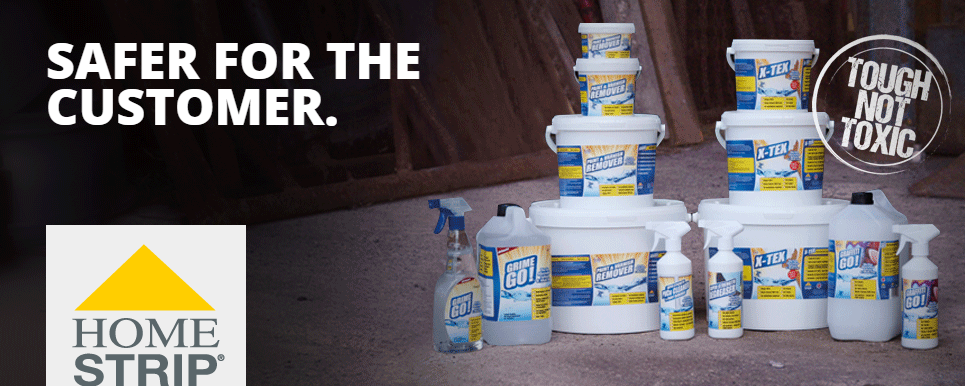 Solvent-free
The Home Strip products are safe for people to use and free of chemicals such as Methylene Chloride, N-Methyl Pyrrolidone (NMP) Benzyl Alcohol, Methanol, Ethanol, Dimethyl Sulphoxide (DMSO) and Gamma Butyrolactone (GBH).
All of Home Strip product range from Eco Solutions is water-based and does not harm either users or the environment.
Paint and Varnish Remover
The revolutionary water-based Paint and Varnish Remover is safer and more environmentally friendly than hazardous solvent-based strippers. This is great for professionals or DIY-ers, and comes in tubs of 500 ml, 1 Litre, 2 Litres, and 5 Litres.
Super Strength Degreaser
The Home Strip Super Strength Degreaser is solvent-free, but is equally good as other chemical-filled products at removing all types of grease, oil, grime, glue, and even light carbon build-up from virtually any kind of surface!
X-Tex Artex and Textured Coatings Remover
X-Tex removes textured coatings such as Artex® without releasing dust from harmful asbestos fibres into the air. It's water-based and solvent-free.
Some plaster-type textured coatings (mainly sold before the mid-1980's) may contain harmful asbestos fibres. If in doubt always get a sample of the coating tested prior to removal and ensure you wear appropriate protection and take necessary precautions. See the latest guidance from the UK Health and Safety Executive for further information about asbestos removal.
Grime Go, Surface Cleaner & Degreaser
Grime GO! removes all types of grease, oil, dirt, stains, adhesive residues, paint splashes too! – preparing surfaces for re-painting or just to clean and brighten the substrate. Degreases & De-waxes - Removes Stains, grime, mould, dirt and much more – ideal for surface preparation – no fumes, no skin burns, no abrasives – non toxic.
Home Strip Graffiti Go Trigger Spray 500ml
Developed and manufactured in the UK. Graffiti Go! is a safe water-based graffiti remover. Used by professionals to remove all sorts on surfaces including on all woods, metals, stone, brick, marble, concrete and most plastics (test an area before using!)
Removes:
All paints including car spray paints

Graffiti shadow

Leather dye

Marker pen

Crayons

Fly posters

Chewing gum
Home Strip Super Strength PVCU Cleaner
For PVCu windows, doors and guttering. Removes heavy grime, dirt, oil, and paint splashes too! Spray on and wipe away stains and grime. PVCu Cleaner is safely being used by an increasing number of consumers and professional users alike.
Removes:
Grime and Grease

Mould and Stains

Removes years of weathering, exposure to wind, rain, dust etc

Removes paint splashes too!
Water-based | Non hazardous | Non toxic | No skin burns | Non caustic | Non flammable | PH neutral |Solvent free | "Tough not toxic" | No H (hazard) or P (precautionary) statements on the label.