We're Baa-rmy for Baavet!
Posted by Celtic Sustainables on

A beautifully crafted high quality duvet made in Britain using 100% British wool.
Whilst lambs are springing up all around, the wintry weather still isn't quite behind us, and we're all trying to keep cosy until the sun decides to put his hat on once more for what forecasters are promising to be the longest summer since 1919 (but doesn't that sound just a little too familiar?). Whilst we wait, we here at Celtic Sustainables can quite honestly think of no better way to wrap up warmly than with a Baavet duvet.
Made from 100% natural Welsh wool in Gwynedd, North-West Wales, the duvets are put together without any chemicals, bleach, polymers, or polypropylene liner – they're completely natural! The 100% high quality Eqyptian cotton lining is made especially for Baavet: it's of the best quality 250 thread count, and is put through a calendering heat process to make it completely fibre proof. What's more, Baavet was featured on Dragons' Den in February this year and has been in exceptionally high demand ever since – it's the duvet to be seen (or slept) in!
Why buy a Baavet?
Here are the top reasons we think you should pick a Baavet woollen duvet over any other: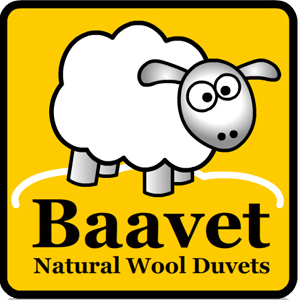 They're made here in Wales from

100% British wool

– your duvet won't need to be shipped all the way from Australia or Eastern Europe. In fact, even the packaging is British!

Unlike feather duvets, wool duvets are breathable and wick moisture away from the body to keep you cool and dry;

They're naturally hypoallergenic and it's also dust mite proof beyond the standard set by the asthma society.

There are no nasty chemicals inside, so you can sleep soundly with complete peace of mind.

You won't have to worry about buying 'summer' and 'winter' duvets ever again – a Baavet duvet is for life: all year, every year, forever

Baavet don't bond the wool to polymers nor do they use polyproylene inter-liner as in the case with some cheaper wool duvets.
What have people been saying about Baavet blankets?
"My duvet came just before the 'Beast from the East' arrived. It's lightweight but gives superb warmth.....I love it"
"Brought the grand children a duvet each for Christmas, wonderful, best thing we have ever give them. Sleep so well, just ordered one for ourselves,"
"Having tried for years to buy a duvet which is not too hot to sleep under, I finally splashed out,and am so glad I did.It was quite an expense, but has proved it's worth, we haven't slept so well for years.Going to bed is a very pleasant experience now.!"
What do Baavet have to say about their range of products?
"I would say that we probably make the finest duvet on the planet, well that's what our customers keep telling us…and, if it wasn't for their genuine appreciation of the quality of the product, we would have given up years ago when the going was really tough. If you don't believe me you can try one as we are that confident in our products. And we are the only company that will guarantee you your money back if it doesn't give you the best nights sleep ever. That's any duvet company not just wool duvet companies."
Not only do Baavet do wool duvet, they also do mattress protectors and pillows! Baavet wool pillows are filled with small wool balls that provide excellent support for your head and neck. The pillow case is a zipped percale cotton cover that allows easy access to the wool, so it can be thoroughly fluffed when required, and is easy to remove and wash.
"I got the medium filled pillows. I haven't slept so well for years. Excellent product that gets a 10 out of 10 from me. Very happy indeed."
No need to replace an existing mattress, just upgrade it with a Baavet wool mattress protector. Made in the UK from organic Welsh Sheeps Wool. If you've already got a Baavet wool duvet, then you will appreciate the wonders of sleeping under wool. Now you can increase those benefits by sleeping on top of a Baavet wool mattress protector. Quality is paramount to Baavet and the same qualities in their blankets are also followed through with their mattress protectors. The mattress protectors are dustmite resistant, hypoallagenic and breathable. To read more about the benefits of the mattress protector click here.
Customer comments for Mattress Toppers: "Fantastic! Soft, well made and warm."